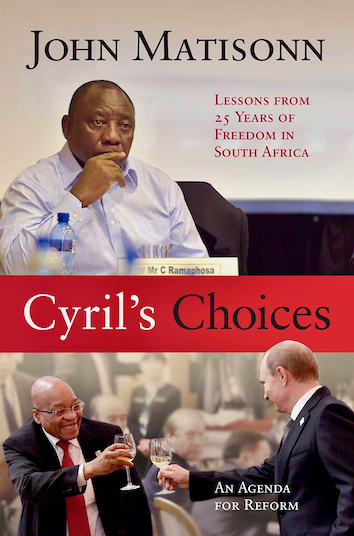 President Cyril Ramaphosa, Nelson Mandela's preferred successor, faces new problems and new choices since he won his own electoral mandate in May 2019. In the next five years, South Africa will be changed radically by the climate crisis, the Fourth Industrial Revolution, economic stagnation, political unrest among some of its southern African neighbours, and the rising African influence of Russia and China while the West is distracted by the insurgent populism of US President Donald Trump and Brexit.
Cyril's Choices: Lessons from 25 years of freedom spells out the choices before Ramaphosa and South Africa.
For the first time, Matisonn explains work he began at the time he met Nelson Mandela a day after the future president left prison. In September, 1991 he resigned his job as a foreign correspondent in South Africa to study the problem of rapid economic growth first at the University of Chicago, then in Japan and Russia.
Drawing on experience from Moscow and Kyoto, Harare and Bangui, and the highways and byways of South Africa, the author shows that rapid growth and job creation are a policy choice that can be made by changing how we identify its drivers.
Since his study visit to Russia in 1992, the author has traced the rise of the Russian oligarchs who befriended President Zuma and other African leaders to sell nuclear plants and take over mines, and how the immigrant Indian Gupta family became South Africa's own oligarchs. 
| | |
| --- | --- |
| Format: | Paperback |
| ISBN-13: | 978-0-639-84043-7 |
JOHN MATISONN
John Matisonn has had a bird's eye view of South Africa's progress
through apartheid and democracy. As a political and foreign
correspondent, and one of the pioneers of South Africa's free
broadcasting environment, he has known every ANC leader since
Oliver Tambo and every government leader from John Vorster to
Cyril Ramaphosa.
He served four years in the Mandela government, held senior
positions in the United Nations in Afghanistan after the fall of the
Taliban government, and was a member of the Interim Board of
the South African Broadcasting Corporation after the National
Assembly's gruelling investigation into corruption there in 2017.
His first book was God, Spies and Lies: Finding South Africa's
future through its past. This is his second book.